As an entrepreneur, you're always thinking about how to grow your business. One important aspect of that is making sure your business is easier to find online, and improving your website's search engine optimization is a good way to ensure this.
In this post we'll share our top 5 SEO tips to help you improve your website's visibility. But first, what is search engine optimization (SEO) and why is it so important?
What is SEO and why is it so important?
As mentioned above, it's important to work on improving your website's SEO to make it more easily findable. Improving your website's search engine optimization helps it rank higher in search results.
Your website can be found in two different ways. The first way is through SEA (Search Engine Advertising). These ads are the first one to three search results displayed in search results, and companies pay to have their business listed there. The second way is through SEO, which is called an organic search result.
Ranking in organic search results is free, making this a very handy way to improve your website's visibility. So let's get started!
Tip 1: Make a plan
The first step in improving your website's SEO is to make a plan. Improving SEO doesn't mean just adding a few keywords and then hoping for the best.
One of the best ways to improve your website's SEO is to blog. Writing a few blog posts per month about topics relevant to your industry will help you build more authority with your website. This helps ensure Google sees your website as a reliable authority in your industry, which in turn can improve its performance in search results.
Every article you write is a new opportunity for potential customers to discover your company, and regularly publishing blog posts provides more and more opportunities to drive new traffic to your website.
Not only can you start blogging, you can also improve SEO for your pages and products via the Webador Editor.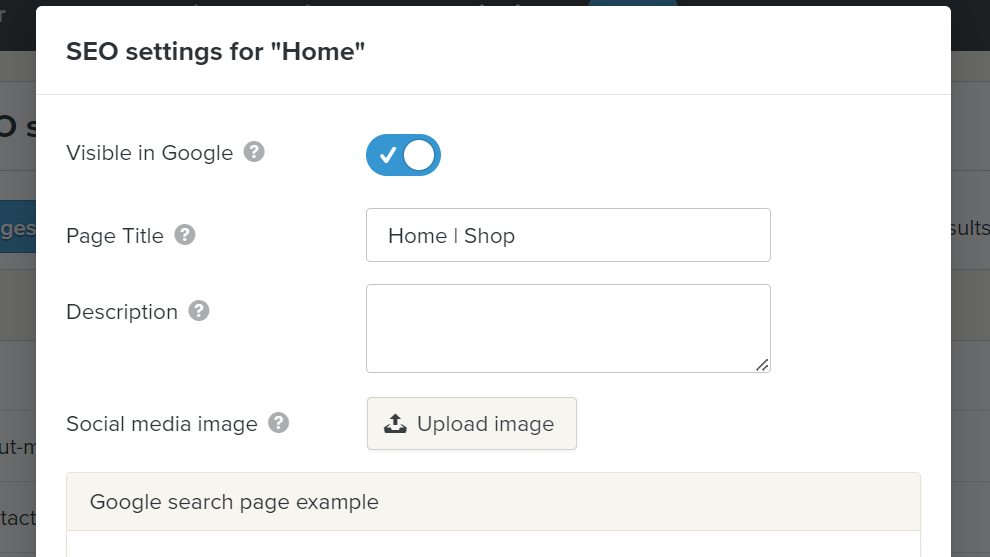 Improving the SEO for your pages and products will help make sure these are also easier to find in organic search results.
So, start by making a short, concise plan detailing which steps you want to take to increase your website's visibility via SEO.
Tip #2: Find the right keywords
Our second SEO tip is: keyword research! This means finding the right keywords to help you optimize your website content.
Finding the right keywords seems quite difficult, but with the following tips you can easily determine which keywords will help your website perform better in search results.
The first question to ask yourself is, "What do I want to be found for?"
Let's use the following example: bracelets.
Option 1: Free
One handy way to determine which keywords you can use for your website or webshop is to enter your primary topic in the Google search bar: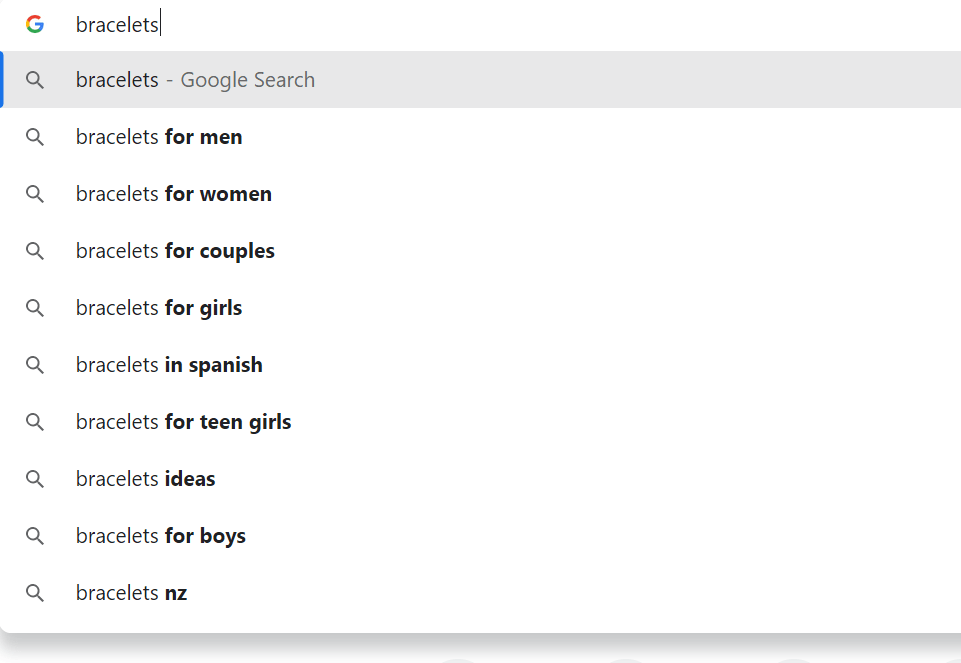 Here Google shows the keywords that people in the Netherlands (where Webador is located) search for the most. When you enter these keywords, you can always add a letter of the alphabet (A, B, C, D and more), after which more search results will appear: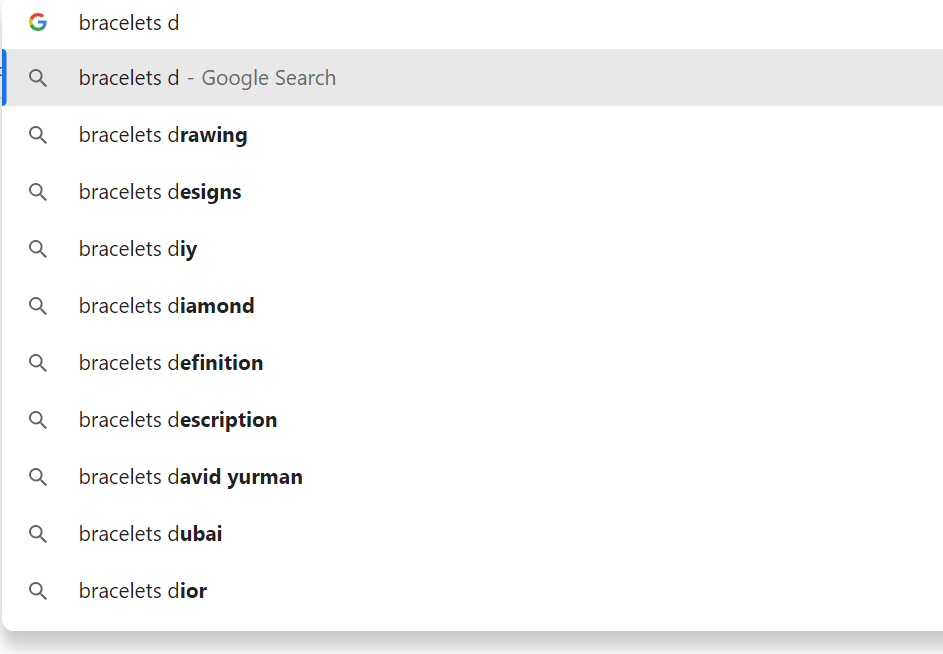 The longer the keyword phrase is, the higher the chance that you will rank for it, because there is less competition. These longer keywords are also known as "long-tail keywords".
Option 2: Paid
Another option for keyword research is to use a paid tool. One example of a useful tool that offers good value for the price is Ubersuggest . You can use this tool to do keyword research and choose keywords with less competition.
Tip #3: Write catchy content
Once you've found some keywords, it's time to implement them in your website content.
Suppose we've chosen the keyword phrase "buy bracelet thread". We can implement this in different ways:
Opportunity #1: List a new product
For example, you can choose to start selling a product that matches the keyword. When you've listed the product, you can optimize it by making sure to include the keyword phrase in the product description.
Opportunity #2: Write a blog post
Another way is to write a blog post about the keyword phrase "buy bracelet thread". For example, you could write a post sharing tips for choosing the right thread, or advice on how best to use it, or even highlight your products that match the keyword.
By taking advantage of these two opportunities and repeating the process over and over again, you can rapidly improve your website's findability.
Build your website with Webador today!
Tip #4: Improve your content
Once you've started writing blog posts and optimizing your products for SEO, it's important to start improving your content.
Review your products regularly, with a critical eye on SEO. Ask yourself the following questions:
Am I using keywords for this product?
Can I possibly make the keyword (or related keywords) appear more often?
You can also ask yourself these questions when reviewing your blog posts. As a rule, you should regularly update blog posts, adding new information and possibly new keywords too.
Important: Avoid adding too many keywords! This could lead Google to view your website as spam, and thus rank your website lower. As long as your blog posts are readable and the content flows naturally, you don't have to worry about this.
Tip #5: Keep looking for opportunities
Number 5 on our list of SEO tips is to carry out monthly research into SEO opportunities.
Improving the findability of your website is a continuous process. That's why it is important that you free up an hour every month to research new opportunities and improve your current SEO.
So what are opportunities?
These are new keywords that you want to be found for and that you can write blog posts about. Not only that, you can also start offering new products based on new keywords.
As a result, your business will better meet the demands of the market and your website will be found more easily.
Conclusion
So, to recap: make a plan, find keywords, and incorporate those keywords into your website content, product descriptions, and blog posts.
Of course, being easier to find online starts with having your own website. Are you an entrepreneur and do you need a website? Create a free Webador account and launch your website today.
Build your website with Webador today!