A Google Business Profile can help your business be found more easily online. A Business Profile allows you to manage how your business is visible on Google, including on Google Maps, and it can help gain trust among visitors and rank higher in search results.
Handy! But how do you create a Google Business Profile?
Step #1: Go to the Google Business Profile website
Although creating a Google Business Profile is very simple, it's important to carefully follow these steps.
First, go to this website and start setting up your Google Business Profile. Here you'll also see the advantages of a Google Business Profile:
1. Ranking better on Google
A company that registers for a Business Profile can be found on Google Maps, but will also rank higher in Google search results.
2. Collecting reviews
Collecting customer reviews is very important. According to Google, a business that has signed up for a Business Profile and receives reviews is twice as likely to be considered trustworthy.
3. Presenting your offer
You can add your products to your Business Profile, which will generate interest in what you offer.
4. Getting in touch with customers
Customers can send you messages or call you directly, which is really useful and builds trust.
5. Viewing analytics
Via your Google Business Profile you can see how your visitors find you. This information can help you optimize your online presence to boost your findability further.
Step #2: Register your business
The second step in launching your Business Profile involves completing the short registration process: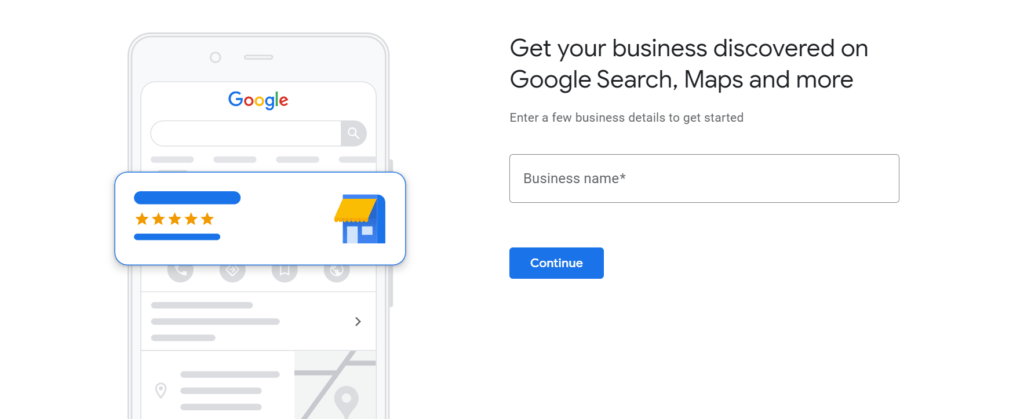 First, enter your company name. This is the name that will appear in search results and on Google Maps. If you don't have a company name yet, but still want to create a Business Profile, it's important to choose a catchy name that you want to be found and known by.
After entering your name, Google will ask you to choose a category:
Online Retail
Local Store
Service Company
After making your choice, fill in the remaining details such as the business category, your business address, and your phone number to verify your business profile.
Important : If you don't verify your profile, it won't appear on Google. Make sure you complete the verification as soon as possible, so your business can be found online shortly after.
Step #3: Complete your Registration
After you've completed the first part of the registration process, you can add some other important details to your Business Profile.
The first thing you'll add is your opening hours, so visitors can easily see when you're open for business. This lets potential customers know when they can stop by your premises or receive a reply to their email.
You can then add a description of your company, telling potential customers what your business is about and what it can do for them.
Finally, you can add photos and a link to your Webador website. It's very important to include your website address on your Business Profile so visitors can immediately click through to your website via Google Maps and the search results.
If you don't have a website yet, you can launch it today by registering for free with Webador!
Build your website with Webador today!
Step #4: Using Google Business Profile
So, what can you actually do with your Business Profile? As we've mentioned, a Google Business Profile can help boost your online visibility. But there are three other key features we'd like to highlight:
1. Receive messages
When you enable this feature on your Google Business Profile, potential customers can chat with you. This can be an important way to connect with your customers. You can even set up your own welcome message, which customers automatically receive after clicking on "Contact".
2. Receiving Reviews
An important part of a strong Google Business Profile is collecting reviews. The more positive reviews you receive, the more reliable your business will appear to potential customers. Ask satisfied customers for reviews to increase your visibility online.
3. View Performance
Via your Business Profile you can quickly and easily see how many visitors have been on your website and how they found you.
Step #5: Collect Reviews
We've already discussed the importance of collecting reviews, but you might be asking yourself, "how do I collect reviews?"
You can collect reviews in a number of ways:
1. In your confirmation email
After a customer has placed an order with you, they'll receive a confirmation email. In this confirmation email you can ask the customer to leave a review about their experience with your company so far. A handy tip to generate more reviews is to offer a discount code for their next order in exchange for a review.
2. One week after purchase
Another way to collect reviews is to send your customers an email one week after they have received their purchase. You can ask if they had a positive experience, if they're happy with the product or service, and if they'd like to share their experience. In this email you can offer your customers a discount code for leaving a review.
Conclusion
In this post we've detailed how to create your own Google Business Profile. Having a website for your company is very important in making your Business Profile as effective as possible.
Don't have a website yet? Sign up for free with Webador today and start building your online presence!
Build your website with Webador today!