Google is the world's most popular search engine. So it's no wonder everyone with a website is competing for that top spot on the first page of Google search results. More visitors means more customers and more growth – in other words, what every entrepreneur wants!
In this post, we'll share some tips to help you get your website or webshop onto the first page of search results.
Step 1. Choose a niche for your website or webshop
These days, it's easier than ever to create your own website. And while that means more opportunities for every entrepreneur, it also means there's plenty of competition for a spot on the first page of search results.
One of the best tips for boosting your site's performance on Google is to specialize in a specific niche. The meaning of "niche market" according to Dictionary.com is:
"a demand for a very specialized product or commodity"
Fulfilling the needs of a specific group of visitors or customers, you can work around some of your competitors. As a newcomer, you can build authority and thus improve your website's position in search results. For example, if your webshop offers a wide variety of products in different categories, you're up against internet giants such as Amazon. But by specializing in a very niche category, like kids' jewelry for example, you can avoid a lot of that competition.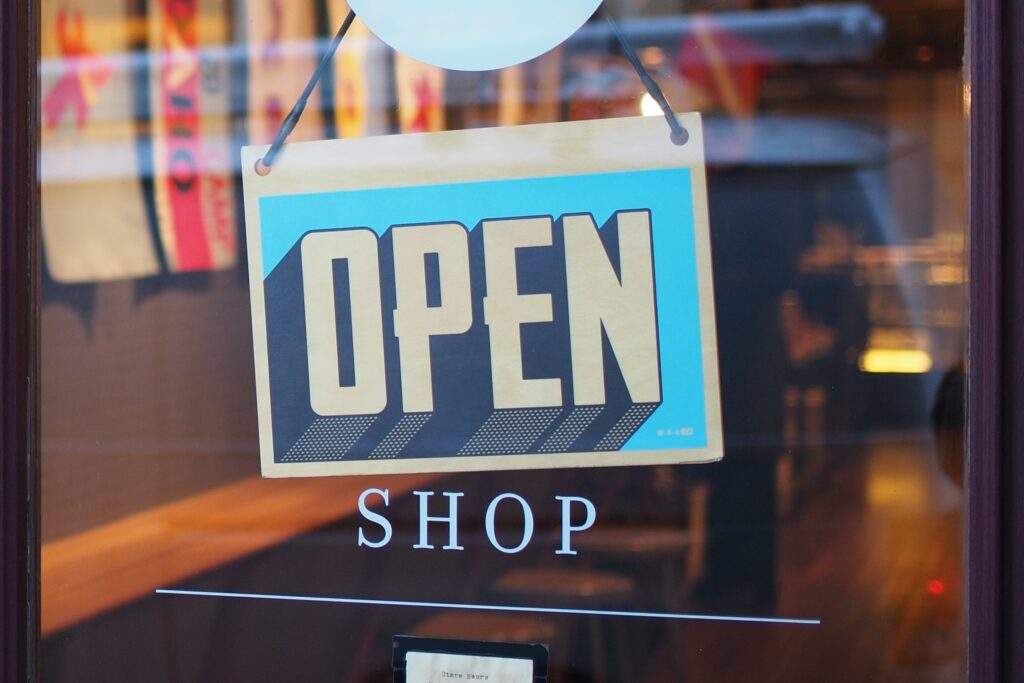 Step 2: Do keyword research
Once you've determined which niche you want to target, it's time to do some keyword research. This part is easier to do after choosing a niche, when you have a better understanding of who your ideal visitor or customer is and what they're looking for.
Let's use a webshop selling bracelets as an example.
To make sure your customers can find you via Google, it's important to answer the following two questions:
"What is my ideal customer looking for?"
"How do I want them to find me?"
Answering these questions is crucial. Ask yourself whether the customer is likely to be shopping for themselves or someone else. Are they looking at birthday gifts in general, or a specific bracelet?
Why are these questions important? Because you can answer them while you're creating content. Researching keywords and using those keywords in your content is what's known as "search engine optimization", or SEO. The goal of SEO research is to determine which keywords your ideal visitor or customer will use to find you, and include these keywords in your website content.
How do I do keyword research?

We recommend Ubersuggest, a powerful keyword research tool. When you type a keyword into Ubersuggest, you can see similar keywords, how many people search for that keyword per month, and how much competition there is.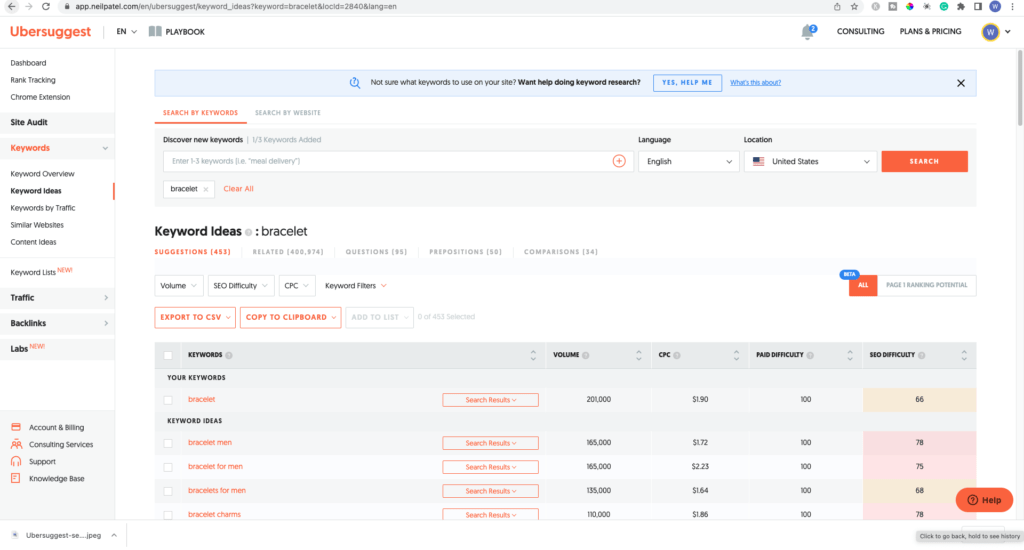 Ubersuggest also shows you which keywords have high volume and low keyword difficulty. These are the opportunities you'll want to capitalize on.
Why?
Because you can use these keywords to improve your rank over time, which can get you onto the first page of Google search results.
In the example below, we can see that 12.100 people per month search the keyword "engraved bracelet for men" and it has a difficulty score of 39, making it a great opportunity for ranking higher in search results.
While Ubersuggest is a paid tool, the basic version is available for free.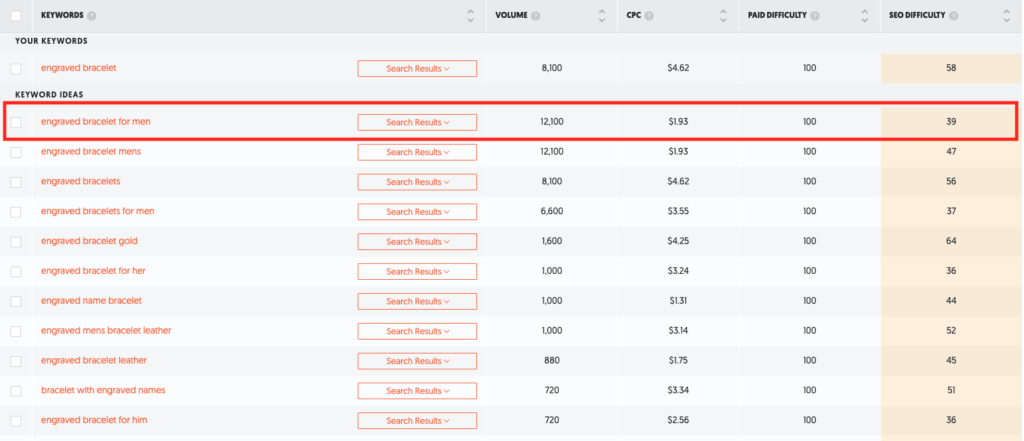 3. Create a content plan
Once you've got your list of keywords written down, it's time to start making a content plan. The end goal is to incorporate the keywords you selected in step 2 into a blog post. Regularly publishing blog posts relevant to your chosen niche will make Google stop and think:

"Hmm, this website knows a lot about bracelets for men. Let's make it more visible!"
The purpose of a content plan is to write down which keywords you want to be found with, and how often you want to write blog posts. It doesn't have to be a fancy spreadsheet; simply write down your keywords, what you want to write about, and how often.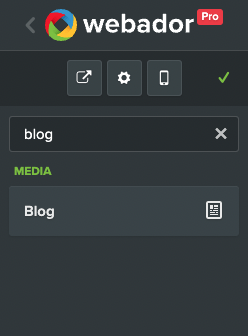 With Webador's user-friendly Editor, you can set up a blog page and publish a post in just a few clicks!

Step 4. Write blog posts about topics you want your website to be found for
It's time to start writing! Choose one of the keywords you wrote down earlier and fire up Microsoft Word. Let's use "engraved bracelet for men" as an example.
Start by writing the keyword at the top of the page, then jot down a few sentences on what you want to write about. This will help maintain structure in your post. A few bullet points is all you need:
– Why an engraved bracelet is an ideal gift
– How to personalize a bracelet
– What types of bracelets there are
You can then shape an article around this, making sure you regularly use the keyword "engraved bracelet for men" in the text.
It can also be worthwhile to turn your blog posts into scripts for YouTube videos. Once the article is written, adapting it doesn't require a lot of work. Creating videos can increase your reach and help build on your site's authority, leading to more sales.
Step 5. Write catchy titles and get more clicks!
We live in a world where attention spans are decreasing all the time, and it's harder than ever to draw attention to your work online. That's why it's important to keep the following in mind:
"What's on my website and in my blog posts doesn't matter until my ideal customer clicks onto it."
While keyword optimization is crucial to your website's growth, another key factor is writing good titles for your pages and posts. That is, titles that visitors want to click on.
When you're thinking about a title for your new blog post, remember you want it to stand out in search results. Put yourself in your ideal customer's shoes and ask yourself, "what would this person really want to click on?"
Titles that are short and simple often get the most clicks. You can also check out what the competition is writing by searching Google for your keyword. Study the search results to see how you can make your title even more unique.
For our blog post about engraved bracelets we went with:
"5 reasons why an engraved bracelet is THE perfect gift for men."
This title inspires curiosity, focuses on what our ideal customer is looking for, and incorporates the keyword.
Step 6. Optimize your blog content
When you've written and reviewed your blog post, it's time to post it in the Webador Editor. You can copy and paste the text directly from Word into the Editor.
Once you've copied the text over, it's important to optimize the post for Google. We want to make it easy for Google to understand what your blog is about and which aspects of your post are important. To achieve this, we'll give every paragraph the right header size so Google can see how the post is structured.
The headers above each paragraph will use "heading 2". If there are more headers within the paragraph you can go down to "heading 3" or "heading 4". The article text will of course be formatted as "normal text".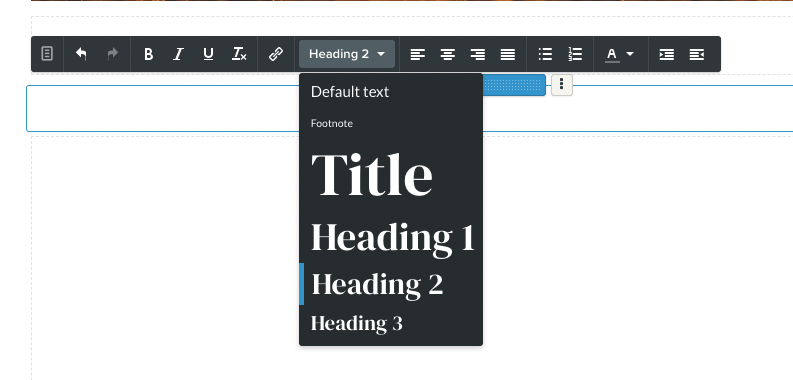 Step 7. Collect links from other websites
Putting keywords aside for a minute, there's other ways you can improve your website's position in search results. One of the metrics Google works with is how many other websites link to your site. The more websites linking to your site, the more traffic you'll get.
But how do I get links from other websites?
This can happen over time, as other websites see value in your blog posts and link to them. You can also approach other websites within your niche and ask them to link to your blog posts, specifically the ones relevant to their visitors.
Conclusion
Of course, there's a lot more to search engine optimization. But if you focus on the steps outlined in this blog post, you'll see an increase in traffic to your website and you too can rank on the first page of Google search results.
Need a website that's quick and easy to set up? Webador's powerful website builder offers everything you need to get started.
Frequently asked questions
1. What is search engine optimization?
Search engine optimization means ensuring your website or webshop ranks higher in Google search results, leading to more visitors and more potential customers.
2. What does SEO stand for?
The abbreviation 'SEO' stands for 'search engine optimization'. This refers to ensuring your website performs well in search results.
3. Can you do SEO independently?
You can! It's important to incorporate the keywords you want to be found with into your website content, including page titles so that Google can determine what each page is about.
4. Is Webador search engine-optimized?
Yes! When you create a website with Webador, it's fully search engine optimized and you have the chance to feature on the first page of Google search results.
Build your website with Webador today!